Blog
American Heart Month: Getting Heart-Healthy in St. Louis
18 February 2016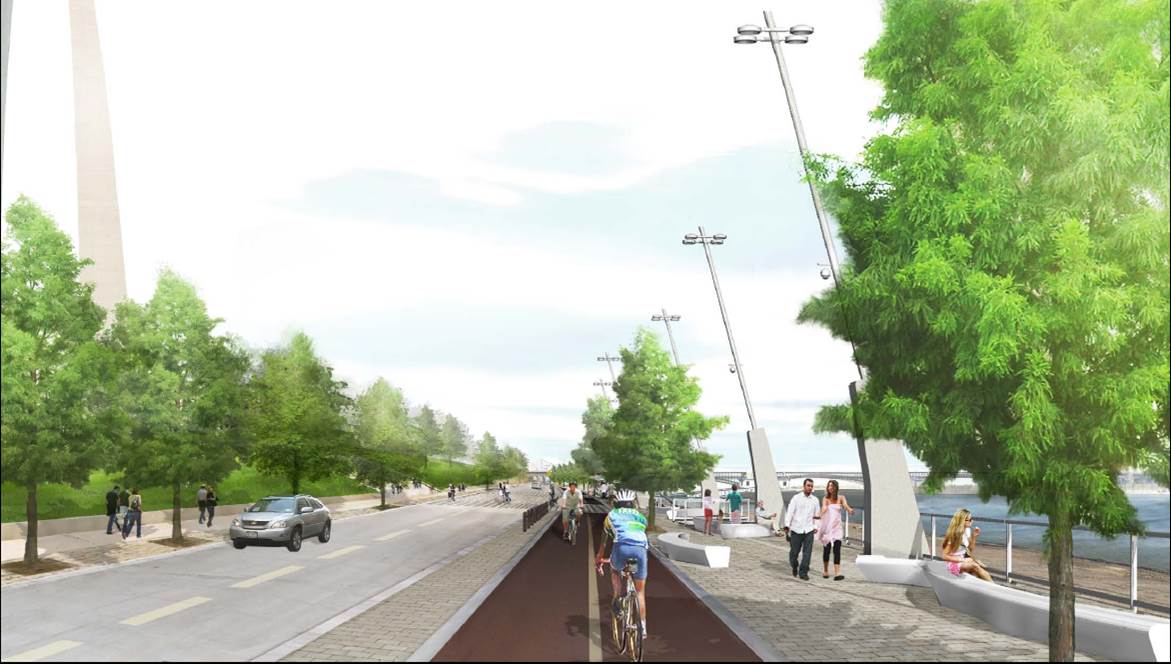 Projected Gateway Arch Riverfront image from CityArchRiver.org
As the leading cause of death for men and women, preventing heart disease should be a number one priority for all Americans. National Heart Month in February is a time to recognize the importance of maintaining a healthy heart and to share that message with others.
Start with just a few simple steps, listed below, and be on your way to better heart health.
1. Eat heart-healthy foods.
In general, it's important to eat a variety of foods from all food groups to get necessary nutrients. However, certain foods promote heart health in particular, according to ClevelandClinic.org:
Fish such as tuna, salmon and trout, which are high in omega-3 fatty acids.
Try Oceano Bistro or Cielo for a delicious selection of seafood.
Berries, which contain phytonutrients, soluble fiber and antioxidants.
Check out the selection of berries at Soulard Farmer's Market.
Dark beans, which are high in fiber, B-vitamins, minerals and more.
Try the chili at Blueberry Hill.
Red wine, which helps improve HDL cholesterol levels (the good cholesterol).
Note: the health benefits apply to only a 4-ounce glass of wine—up to two for men, one for women.
Oatmeal, which is full of important nutrients.
Dark chocolate, which, when made of at least 70 percent cocoa, provides antioxidants.
Try Schnucks or Dierbergs for a selection of dark chocolate bars.
Fruits and vegetables, which offer a multitude of vitamins and minerals.
2. Exercise daily.
Although exercising daily might seem excessive, adding just 15-30 minutes of physical activity to your routine can be beneficial. Experts say it's even okay to split up your workout throughout your day to fit your schedule. The most important thing to remember is to take one step at a time rather than jumping in full speed. Try:
Walking. According to the American Heart Association, walking briskly can lower your risk of high blood pressure, high cholesterol and diabetes as much as running can.
The new Gateway Arch Riverfront is set to be completed by June 2016, offering a convenient, scenic track for walking and/or biking! Forest Park and Tower Grove Park also offer beautiful trails for walking or running—perfect for walking your dog!
Ice skating. Bring the family and enjoy some winter fun while fitting in a daily dose of physical activity.
Check out Steinberg Skating Rink.
Skiing. With only about a month left of winter, it's the perfect time to hit the slopes!
Visit Hidden Valley Ski Resort.
Hiking or biking. Learn about the wonders of nature while getting your heart pumping.
Castlewood State Park's hiking and mountain biking trails range from trails for first-timers to the most experienced explorers. The park is considered one of the best mountain biking locations in the St. Louis area, and wildlife is abundant.
Working out at the gym. Some area gyms offer special discounts for new members. It's never too late to join!
Planet Fitness is a great place to start as a workout beginner—the company claims "no gymtimidation." Plus, membership is as low as just $10 per month.
3. Monitor your blood pressure and talk heart health with your doctor.
According to the CDC, it's important to schedule regular check-ups.
4. Quit smoking.
Smoking greatly increases your risk for heart disease and stroke, according to the CDC.
Here's to a happy, healthy heart and life in vibrant St. Louis! Happy American Heart Month.