Arch Grounds / Blog / Gateway Arch / St. Louis
Best Dog Parks in St. Louis
17 May 2018
Warm weather is finally here to stay in the Lou, so we put together a list of the best dog parks around St. Louis for you to and your furry friend to explore.
DISCLAIMER: Enjoying these parks with your dogs may cause endless tail wags and many doggie kisses!
Located in St. Charles, DuSable Dog Park is a 2.5-acre facility that is divided into sections for large and small dogs. The park also features a new shaded pavilion where guests can cool off on sunny days. This park is free and is open from daylight until 10 p.m.
The Cities of Sunset Hills and Crestwood came together to create a community dog park located inside of Kitun Park. This dog park has separate areas for small and large dogs, and is open to residents and non-residents, however, you and your puppy pal must purchase a membership to take advantage of the beautiful space.
Queeny Park – Tails and Trails
St. Louis County Park's first dog park has opened in Queeny Park! Tails and Trails is an off-leash, 5-acre park with separate areas for large and small dogs. Other amenities include water features, permanent agility and skill stations, biodegradable waste bags, disposal containers, and watering stations. Tails and Trails also provides a secure, double-gated entry, a pavilion with electric, and on-site paved parking. A membership or day pass must be purchased for your furry friend to enjoy this park.
Treecourt Unleashed Dog Adventure Park
Treecourt Adventure Park is an ideal space for dogs of all kinds. Members will enjoy open green space, a shallow mineral water area for your pups to cool off, and a great walking trail. Treecourt Adventure Park understands that our dogs holds a special place in our hearts, and this park is created with that in mind. It's a place your pup will love!
There is no better place to take your pup than the Gateway Arch National Park. With 91 newly-renovated acres to explore, you and your pal will have a blast exploring. Enjoy the beautiful river-front scenery, the magnificent views of the 630-foot Gateway Arch, and all the gorgeous blooms surrounding the area.
If you love bringing your dog to the Gateway Arch National Park, then mark your calendars for Arch Bark presented by Royal Canin on Saturday, October 13. This signature event is free and open to the public to celebrate the dog-friendly Arch park grounds with a variety of activities for dog lovers and their four-legged companions.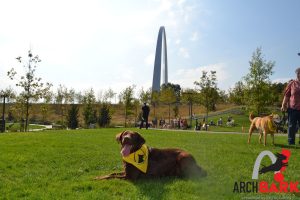 Photo credit: Gateway Arch Park Foundation and Royal Canin