Blog / Riverboats / St. Louis / Uncategorized
"Brunching" in the Lou
01 August 2018
Ah, brunch. Everyone's favorite meal. Here's a list of some of the best places in St. Louis to share a mid-morning meal and catch up with your pals – a great excuse to try them all!
Looking for a vegan-friendly spot to brunch? Gooseberries has a tasty menu loaded with inexpensive options for your vegan or vegetarian friends looking to enjoy some of the heartiest meatless brunch items in the city.
Rise aims to awaken, bring up, and progress the Grove community through sustainably crafted, local specialty coffee, its own baked goods, and Chef Scott Davis's meticulously assembled plates.
One of the oldest farm-to-table restaurants in St. Louis, Winslow's Home features seasonal crops from Winslow's Farm and a bakery with European-style breads, pastries, tarts and cakes. Bonus: all are made on-site from scratch, using time-honored techniques.
Sit back, relax and enjoy this Sunday cruise on one of the charming riverboats at the Gateway Arch. Ride along the Mississippi River and admire the scenic St. Louis skyline while you indulge in a fully catered brunch buffet and listen to the uplifting beats of live music. Reservations are required.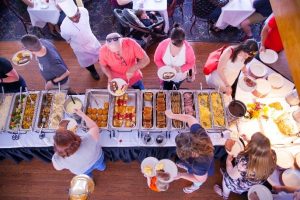 Got a sweet tooth? City Coffee and Creperie's large menu of sweet and savory crepes, Belgian waffles and European-style pastries is the perfect way to satisfy your Francophile cravings. Pair them with a steaming hot café au lait, and you can almost hear the accordion music.
Calling all night owls! Peacock Diner is a delicious 24-hour restaurant located in the vibrant Delmar Loop, decorated with tons of … you guessed it. Peacocks!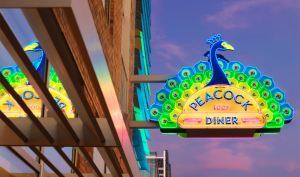 A comfortable yet stylish French Bistro situated on the edge of downtown St. Louis in Lafayette Square. Much of the menu is grown in the restaurants hydroponic greenhouse.
This is a great spot for those with tons of friends! The long communal-style tables are perfect for large parties, as are the picnic tables outside in nice weather.