Blog
Celebrating America's Independence, St. Louis Style
01 July 2016
Don your best red, white and blue this weekend and celebrate our nation's independence, St. Louis style! There are a multitude of Fourth of July activities taking place throughout the region, but here are just a few of our favorites: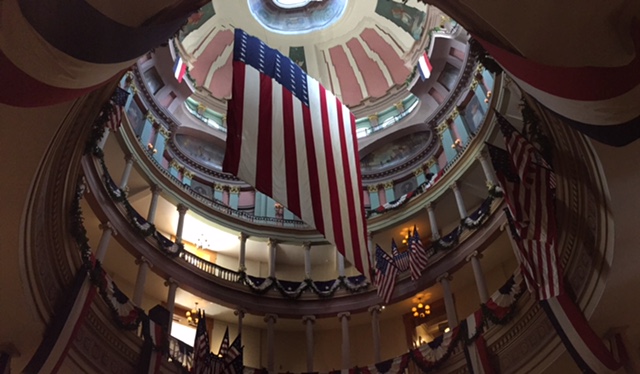 1. Patriotic Concerts, Declaration of Independence Reading, Courtroom Programs and More – July 1, 2, 3, and 4; Old Courthouse
Celebrate Independence Day at the Old Courthouse with a variety of special events, including a Naturalization Ceremony at 1 p.m. on Friday, July 1 in the OCH Rotunda. Saturday through Monday, National Park Service rangers will be on hand from 10 a.m. to 4 p.m. in the Old Courthouse galleries to share stories about Lewis & Clark, the Battle of St. Louis in 1780, Native Americans of the West, and various other topics. In addition, there will be free live concerts at 1 and 3 p.m. on Monday, July 4, by the Independent Silver Band in the OCH Rotunda, and a reading of the Declaration of Independence by Anne Williams at 2 p.m. Also on Monday, ranger-led programs on the 1856 elections and the 1867 suffragettes will take place from 10 a.m. to 4 p.m. in the Old Courthouse's East Courtroom, located on the second floor.
2. Fair Saint Louis – July 2, 3 and 4; Forest Park
How lucky are we St. Louisans that America's Biggest Birthday Party is hosted right here in our own backyard?! The multi-day, outdoor Fair offers fun for the whole family, with highlights including live music performances by nationally-renowned artists such as Lee Brice, Flo Rida, Sammy Hagar and The Circle, and more; an Interactive Zone; a Family Festival Zone; The Fairway, a unique, market-style shopping experience; a human slingshot ride; a customized fireworks display each evening; and much more. Metro will have you covered for transportation – they'll have extra trains and busses running this weekend to accomodate Fairgoers!
3. VP Parade – July 2; Downtown St. Louis
The 134th VP Parade returns to Downtown St. Louis this year, kicking off at 9:30 a.m. on Saturday, July 2, at 7th and Market streets and proceeding east on Market Street to historic Union Station. With a theme of "Hats Off to Heroes," America's Biggest Birthday Parade will feature 146 units, including 17 major production floats with live, professionally choreographed musical and dance performances. For those who can't make it downtown for the festivities, the Parade will be broadcast live on KMOV, beginning at 10 a.m.
4. Edwardsville Independence Day Celebration – July 2, American Legion Golf Course
An Edwardsville tradition, festivities begin at 2 p.m. with the raising of the flag, followed by old-time carnival activities, including ring toss, balloon darts, duck and fish ponds, plinko, and much more. There will also be inflatables, face painting, a hot dog eating contest, and fireworks. The funds raised will help support veterans and their families.
5. St. Charles Riverfest – July 1, 2, 3, and 4; Frontier Park
St. Charles' patriotic four-day celebration includes a parade, live music, carnival, food and craft vendors, and fireworks along the banks of the Missouri River.
Have a safe and happy Fourth of July, STL!