Blog
Gateway to the Stars: Ghosts of the Arch Grounds Stargazing Experience
07 July 2016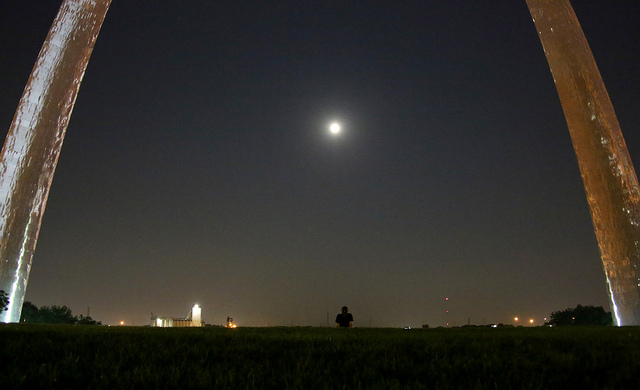 The stars may be light-years away, but you can get a close-up peek at them right here in St. Louis! This Sunday, July 10, head to the Arch grounds for a special stargazing experience.
When: Sunday, July 10, 8-10 p.m.
Where: Gateway Arch grounds. Meet at the North Leg of the Arch.
What: Ranger-led evening talk and walk around the Arch, followed by stargazing with telescopes, led by the St. Louis Astronomical Society.
At the Gateway to the Stars: Ghosts of the Arch Grounds night talk and walk, rangers will share tips for using a telescope correctly, as well as identifying objects in the sky. According to Astronomy Magazine and Earthsky.org, here are some sky sights to behold on July 10:
Asteroid 7 Iris: This asteroid lies almost directly south, and at nightfall on July 10, it will reach its highest position in the sky! Iris is best viewed using a small telescope.
Jupiter: During the month of July, Jupiter shines the brightest and is visible in the western half of the sky until it sets in the west late in the evening. You also should be able to see Jupiter's four major moons: lo, Europa, Ganymede and Callisto.
Mars and Saturn: Though not quite as bright as Jupiter is, Mars and Saturn light up the southern sky during the month of July. Look for these planets near Antares, the brightest star in the constellation Scorpius. These three objects should make a triangle on the sky's dome at nightfall.
Two stars in the constellation Libra: Located just behind Mars during this month, Libra the Scales is a symbol of divine justice, harmony and balance. Its stars Zubenelgenubi and Zubeneschamali are located between two of the sky's brightest stars—Antares (in the constellation Scorpius) and Spica (in the constellation Virgo)—and will be shining modestly-bright on July 10. Look to the southern/southwestern sky at nightfall for the best view.
Gateway to the Stars: Ghosts of the Arch Grounds is free and open to all ages, and telescopes large and small will be available for use. The event is weather-permitting, so be sure to call 314-655-1750, ext. 472 on the afternoon of the program to check weather conditions.
Visit this link for more information on other Gateway to the Stars events. Happy stargazing, St. Louis!