Blog
Go Out and Play on National Get Outdoors Day!
12 June 2015
This Saturday, June 13, is National Get Outdoors Day (GO Day) – a day designated to encourage healthy, active outdoor fun across the nation. Join in celebrating the great outdoors with these events and activities throughout the St. Louis area!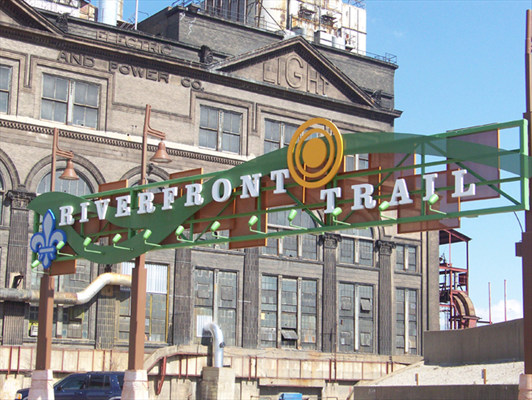 National Park Service Ranger River Trail Bike Ride
Riverfront Bike Trail, St. Louis
8:30 a.m. – 11:30 a.m.
Experience the beauty of the St. Louis riverfront on this family-friendly, 7-mile trip along the north riverfront bike trail. Meet the National Park Service ranger at the 11th and Pine downtown bike station at 8:30 a.m. for check-in and safety review before heading to the trail at 9 a.m.
The event is free, but groups are encouraged to RSVP by calling 314-655-1654.
The Magic House GO Day Celebration
The Magic House, St. Louis
10 a.m. – 2 p.m.
Enjoy the sunshine in the museum's front and back yards for a special GO Day celebration. Activities include fun in the sun at Sandcastle Beach, Tai Chi and other Chinese Martial Arts, and jumping jacks and hula-hooping.
Event is free with museum admission ($10/person).
Grafton, Ill.
5:30 a.m. – 8 p.m.
Pere Marquette State Park, deemed a "nature lover's paradise," boasts 8,000 beautiful acres for hiking, camping, horseback riding, fishing, rock climbing, swimming and more! If you're looking to get away for a weekend without having to pitch a tent, book a stay at the beautiful Pere Marquette Lodge and Conference Center which was recently expanded and updated.
Creve Coeur Park, Creve Coeur, Mo.
8 a.m. to one half-hour past official sunset
Whether you want to spend some time on the water or stay on dry land, Creve Coeur Lake is the perfect spot for anyone wanting to celebrate GO Day. Rent canoes, kayaks, stand-up paddle boards, bicycles and quadricycles by the hour between 9 a.m. and 7 p.m., or simply walk along the trail and enjoy the scenery.
Rental pricing information available here.
S.L. Sportsplay, Great American Human Foosball, St. Louis
Grab some friends for human foosball, also known as "the most fun you've had in a long time," at the first organized human foosball game site in Missouri. Join a league, rent the facility for two hours or gather 12 players and reserve the field for a single game.
Pricing and reservation information available here.
Machens, Mo. to Clinton, Mo.
Sunrise to sunset
Katy Trail State Park is the nation's longest rails-to-trails project, stretching from the Machens, Mo. to Clinton, Mo. Whether you're looking for a short stroll or a five-day bicycle journey across most of the state, the Katy Trail offers activities to satisfy all adventure levels.
Chesterfield, Mo.
7 a.m. to one half-hour past official sunset
The historic Faust Park offers plenty of free playground space as well as several walking trails. You can even brush up on your history by taking a stroll through the historic village, which has structures dating all the way back to 1840. Then, relax on the St. Louis Carousel.
Carousel rides are $2.