Blog
Happy 105th birthday, Eero Saarinen!
20 August 2015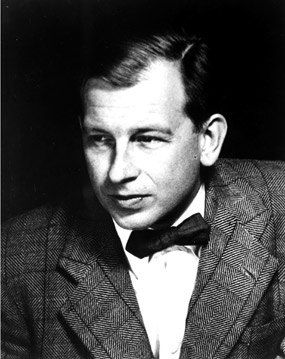 He was an "architect who refused to be restrained by any preconceived ideas" – a quality that is evident in our city's signature monument. Today, we celebrate the birthday of Eero Saarinen – the man responsible for the architectural design of the Gateway Arch!
As his father's partner in an architectural firm, Saarinen had worked with him on a number of projects and earned recognition for his unconventional style. But in 1947, Saarinen seized the opportunity to truly set himself apart as an independent architect – He entered the architectural competition for the Jefferson National Expansion Memorial.
He didn't envision an arch right away, but he did know that the design for this monument should not be a "rectangular box nor a dome." After meticulously studying the site and its surroundings, he decided that "at the edge of the Mississippi River, a great arch did seem right." His idea resonated, and he won the competition in 1948! Ground broke on the building of the Gateway Arch in 1959.
Saarinen's winning design launched his independent career and paved the way for his many other great works, such as the Motors Technical Center near Detroit and the Dulles International Airport in Washington, D.C.
Sadly, Saarinen never saw his vision fully come to life; he died of a brain tumor in 1961 at the age of 51. He is remembered as one of the most successful and creative architects of his time.
Thank you for symbolically capturing St. Louis's role as the Gateway to the West, Eero, and happy birthday to you!
For more information on Eero Saarinen and the design of the Gateway Arch, visit NPS.gov.