Blog
Last minute local holiday gift ideas
23 December 2015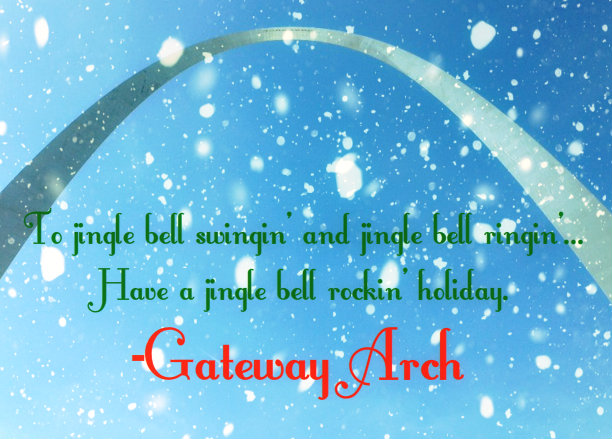 The holidays are upon us, and you're thinking: how can I possibly still find gifts for all the people left on my list?! Never fear—St. Louis has an array of extraordinary options! Support local brands while knocking out those last few items—all in a matter of days (or hours…or minutes!).
A happy St. Louis holiday to you and yours!
For the cocktail & spirits lover
Party pack of Pearl Vodka
Need a small and simple gift, but can't decide on just one flavor or bottle? That's what party packs are for! St. Louis' own Pearl Vodka offers 12-packs of small 50 ml Pearl flavors available at several local retailers, including favorite flavors such as Cucumber, Blueberry and Coconut—as well as newer flavors Lime Basil, Strawberry Basil and Vanilla Bean. Party on!
Check with your local liquor retailer for availability and pricing.
24-hour homemade infusion
Photo from MakeItYourOwn.com
With the craft cocktail craze, homemade infusions and cocktails are more popular than ever. Give a truly personalized gift in the form of an infusion made with spices, fresh fruit, fresh herbs, or a combination of them all! To ensure your creation infuses as quickly as possible, use a high-proof spirit such as Everclear (several recipes only take 24 hours to infuse). This high-proof spirit also is best for extracting flavors from the other ingredients. Check out ideas at MakeItYourOwn.com!
Subscription to Sanctuaria's cocktail club
Is your friend always the first to try the latest cocktail trends? Reward him/her for ALL the hard work with a membership to the exclusive club at Sanctuaria! With membership, they'll receive a tracking card, a Moleskine notebook for tasting notes, a free first drink and 10 percent discounts on any retail purchase, event, seminar or tasting held at Sanctuaria. When ordering from the menu, they may purchase all $10 cocktails for $8. Cheers!
Membership fee is $20. Restaurant located at 4198 Manchester Ave., St. Louis, Mo. Visit SanctuariaSTL.com for more info.
For the history buff
Discovery Tour at the Missouri History Museum
Photo from MoHistory.org
Often saved for field trips and special occasions, people don't usually buy museum tours for themselves. So give them one! Discovery Tours at the Missouri History Museum take participants through a guided exploration of the museum's exhibitions and programming.
Price: $65 for members; $85 for nonmembers. Museum located at Lindell and DeBaliviere in Forest Park, St. Louis, Mo. Visit MoHistory.org for more info.
Missouri History memorabilia
Give a gift commemorating Missouri's rich history! Find an abundance of books and items such as jewelry, posters and videos celebrating Missouri's past and culture at the Missouri History Museum store.
Normal hours: Monday, Wednesday, Thursday, Friday, Saturday, Sunday: 10 a.m. to 5 p.m.
Tuesday: 10 a.m. to 8 p.m.
Holiday hours: December 24: Closing at 3 p.m.
December 25: Closed
Store located in museum at 5700 Lindell Blvd. in Forest Park, St. Louis, Mo. Visit MoHistory.org for more info.
For the foodie
Gooey Butter Cake from Gooey Louie
It doesn't get much gooier, butterier, or yummier than a gooey butter cake–and St. Louis's own Gooey Louie is known for the treat! Several choices are available, from a mini "stocking stuffer" cake to chocolate and blueberry varieties.
Shop located at 6483 Chippewa, St. Louis, Mo. Call 314-352-2253 for more info or to place an order.
Pint of ice cream from Clementine's Creamery
Photo from Clementine's
Known for its "Naughty and Nice" creamy creations, Clementine's Naughty and Nice Creamery offers dozens of small batch ice cream flavors—some made with booze, some made without—but all made with St. Louis love and 100 percent natural flavors. For this holiday season, try two new special flavors made with local Saint Brendan's Irish Cream: Peppermint Bark Irish Cream ice cream and Salted Caramel Bread Pudding ice cream!
Shop located at 1637 S. 18th Street, St. Louis, Mo. Visit ClementinesCreamery.com for more info.
Pappy's Smokehouse BBQ sauces
Known locally as St. Louis' best Memphis-style barbeque restaurant, Pappy's Smokehouse smokes its meat up to 14 hours over sweet apple or cherry wood and offers several lunch, dinner and carry-out options. If you have a BBQ lover on your gifting list this year, give a basket of Pappy's signature sauces: Holly's Hot Sauce, Jane's Sweet Sauce, Pappy's Original and HOODOO Sauce! All are available for purchase at the restaurant as well as online.
Price per bottle is $6. Restaurant located at 3106 Olive Street, St. Louis, Mo. Visit PappysSmokeHouse.com for more info.
For the sports fanatic
St. Louis Blues/Star Wars Experience
Photo from Blues.nhl.com
With a schedule running through April, there are plenty of St. Louis Blues game options to choose from! Game tickets are the perfect gift for the hockey lover in your life, and 3- and 5-game holiday packs are available for purchase. Plus, good news for hockey AND Star Wars lovers—Star Wars Night at the Blues is Thursday, Jan. 14! Scottrade Center will be filled with characters from the movie and all who obtain the special ticket offer code will receive a Jaden Schwartz Star Wars Night bobblehead. Let's Go Blues!
Prices vary. Visit Blues.nhl.com for more info.
Cardinals Holiday Ticket Packs
It's never too early to start planning for the St. Louis Cardinals season! Ten different holiday ticket packs are available, ranging from 5 to 10 games. The Jersey Pack, for example, includes 10 games, featuring all special jersey giveaway dates. Go Cards!
Prices vary. Visit StLouis.Cardinals.mlb.com for more info.
For the music junkie
Tickets to a concert
Concert tickets are an easy last-minute grab, and in a city like St. Louis, there are shows from every genre! A few upcoming gigs include El Monstero, Tool, Janet Jackson and AC/DC. Choose from venues like The Pageant and Scottrade—or plan ahead for outdoor concerts at the Hollywood Casino Amphitheater this summer!
Prices vary. Visit LiveNation.com or Ticketmaster.com for ticket info.
Vintage (or new) tunes
Photo from TCMagazine.org
Vintage Vinyl is a St. Louis staple for classic and new musical records and CDs. With selections ranging across all genres and a knowledgeable and passionate staff, you'll be equipped to give the gift of great music. You can browse selections and buy online or in-store. Rock on.
Prices vary. Store located at 6610 Delmar, St. Louis, Mo. Visit VintageVinyl.com for more info.
For anyone: clothes, accessories and experiences
The Gateway Arch Experience
While the Gateway Arch's indoor activities are temporarily suspended (see last week's blog post for details), they will resume in the spring—so why not plan ahead? The Arch experience is the epitome of St. Louis fun for everyone, and gift certificates are available. The certificates may be used for tickets to the Gateway Arch, Gateway Arch Riverboat Cruises or for purchases from the Gateway Arch Riverboats Gift Shop, located on the riverboat dock.
Purchase gift certificates by calling 877-982-1410.
The Normal Brand
Whether the one left on your list is a guy or a girl, you're sure to find the perfect "Midwest Apparel" for your dear Midwesterner. Support local business owners and give gear that "Embraces Life in the Middle" with your purchase. Recent winners of an Arch Grant, the team at The Normal Brand offers apparel featuring a classy-casual style, fit for both outdoors and indoors. The gear transitions from city to county to country, making it truly a St. Louis-based brand. Gift cards are available.
Prices vary. Shop at TheNormalBrand.com.
Cat's Meow Personalized Gifts
Gifts are this local boutique's middle name. From monogrammed apparel and accessories to special team gear to engraved jewelry, they make gift-giving truly special. The store offers an array of apparel and accessories as well as items for the home, for tailgating, for the holidays and more. Items available in store and online.
Prices vary. Store located at 12065 Manchester Rd., St. Louis, Mo. Visit CatsMeowPersonalized.com for more info.