Project Background & Overview
About the Project Space
The 4800 square foot space is currently used as a 235-seat theater showing the documentary movie, Monument to the Dream. While the current use of the space is theatrical, options for this project are not limited to that use. In fact, the only limitations are the four walls and ceiling – everything else is up for and open to re-thinking, re-design, re-purposing for an entirely new experience.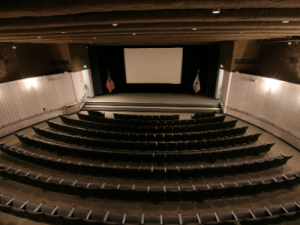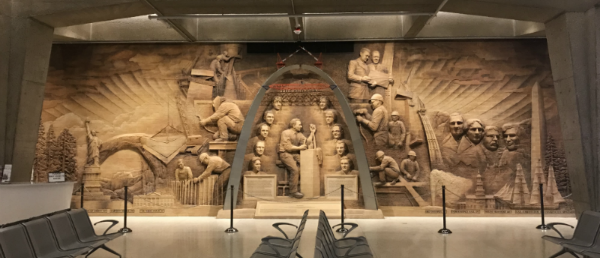 Mural Wall located on the outside wall of the Tucker Theater in the tram lobby below the Gateway Arch.
April 2019 Update:
The solicitation process for  19-RFP-105505-DGR New Gateway Arch Experience Step 1 is now closed. Qualifications for potential designers have been reviewed, and teams led by the below companies have been invited to propose concepts.
AECOM | PGAV Destinations | The Freeman Company, LLC
Concept proposal presentations are planned for July 2019 with an expected contracting date to begin in Fall 2019.
Please submit any inquiries to procurement@bistatedev.org.