Blog / News / St. Louis / Things to Do
The New-and-Improved Kiener Plaza
04 May 2017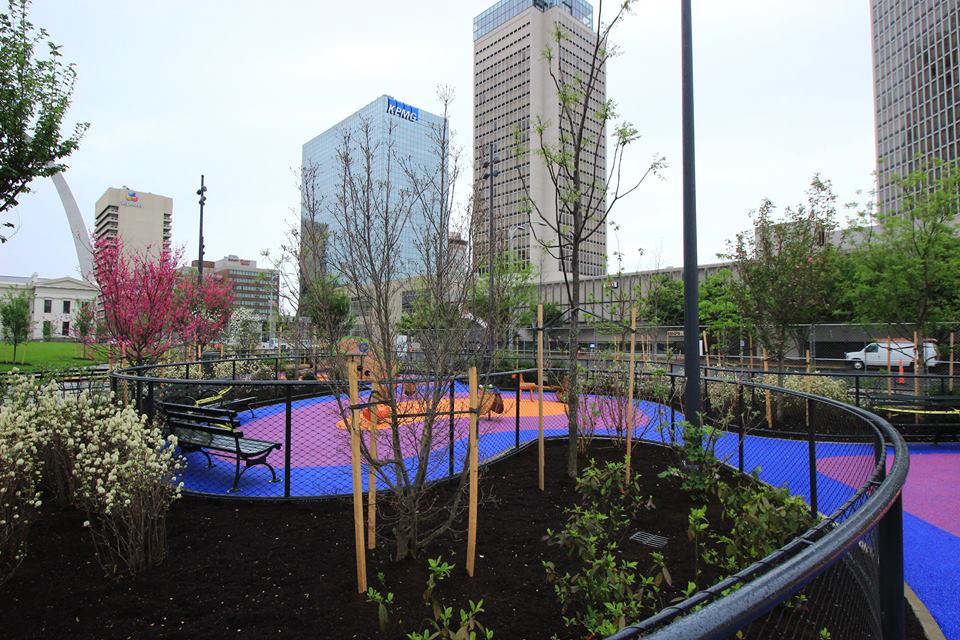 Kiener Plaza has been a staple of downtown St. Louis for decades. The 1.9-acre park, dedicated in 1962, is named after St. Louis native Harry J. Kiener, a member of the U.S. track team at the 1904 Olympics, which was held in St. Louis during the World's Fair. Kiener Plaza has received quite a makeover thanks to the CityArchRiver project.
Some of the features in the new Kiener Plaza include:
More than 140 new trees and a shade garden so people can enjoy a relaxing park setting during their workday or visit
The Courthouse Lawn, which can hold more than 2,000 people for concerts and events
A playground for children of all ages
An interactive water feature, often known as a splash pad
The iconic Runner Statue, which returns to its home at the center of Kiener Plaza with a new fountain and LED lighting
Lots of seating, tables and benches for people to enjoy the fresh air, eat a meal or hold an event
Improved pedestrian connections and street parking for easy access to the park
Improved lighting across the park
With the park's year-long renovation nearly complete, CityArchRiver is throwing a few parties to celebrate its re-opening:
On Friday, May 19, project leaders and dignitaries will cut the ribbon at Kiener Plaza at noon. The community is invited to come enjoy live music by the Kelly Wild Duo and food trucks during lunchtime. Festivities last until 1:30 p.m.
On May 20, CityArchRiver Foundation will host a free community celebration in Kiener Plaza that will include live music by Acoustik Element, Boderline, Phi, and Javier Mendoza with Hobo Cane, food and drink vendors, kids' activities, appearances by Fredbird and Team Fredbird, and much more. The Kiener Plaza Opening Celebration will take place just prior to the St. Louis Cardinals home game against the San Francisco Giants at 6:15 p.m. and is a family and pet friendly event.
For more details like parking and directions, visit www.cityarchriver.org/kiener.
Hope to see you May 19 and 20!