Blog
There's No Time Like Wintertime in St. Louis!
08 January 2016
The weather outside is frightful, but winter in St. Louis is SO delightful! Here's how you can enjoy this season outdoors in our fair city. (Tip: Make sure to bundle up!)
Sled at a Historic Locale
After that first big snow of the season settles, it's playtime in St. Louis! Art Hill in Forest Park offers one of the most popular locales for sledders; in fact, it's been one of the region's top sledding areas for more than 100 years!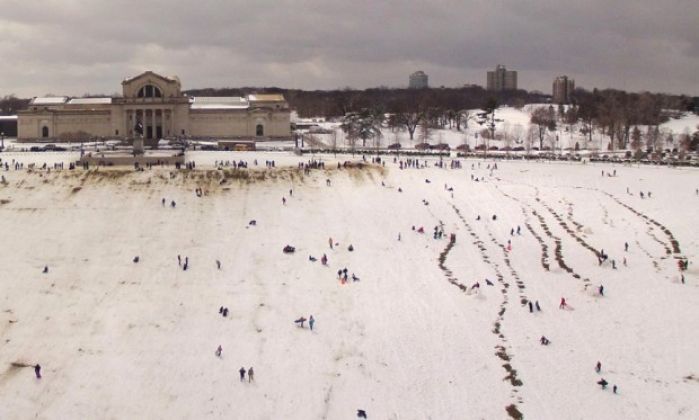 Courtesy of the St. Louis Post-Dispatch
Ice Skate Alongside the Best Cityscapes
Great for a romantic date night or if you're simply looking to tap into your inner Tara Lipinski, be sure to hit Steinberg Skating Rink in Forest Park or Shaw Ice Rink in Clayton for your outdoor skating fix.
Go Skiing… Yes, Really!
We don't have mountains, but we do have Hidden Valley! This spot on the outskirts of West St. Louis County is a popular destination for those looking to conquer the slopes without traveling west to do so.
Take Part in Mardi Gras Mania
Did you know? St. Louis' Soulard neighborhood hosts the second-largest Mardi Gras celebration in the country, just behind New Orleans! Festivities begin this weekend with the Family Winter Carnival. The massive Grand Parade that marches through the streets of Soulard is Saturday, Feb. 6.
Get Iced at the Ice Carnival
Ice, ice, baby! The Delmar Loop Ice Carnival kicks off Friday, Jan. 15 with the Snow Ball at the Moonrise Hotel, and continues the next day with the carnival, where you can enjoy more than 50 ice sculptures, human dog sled races, and even frozen turkey bowling!

Courtesy of The Riverfront Times
Warm Up with the St. Louis Cardinals
…at the Cardinals Winter Warm-up, that is! This annual event, now in its 20th year, brings together former and current players and coaches for a one-of-a-kind meet and greet. Even better? Proceeds from the event benefit Cardinals Care, the team's community foundation supporting kids.
"LET'S GO BLUUUUUUUES!"
OK, we cheated… this is indoors, but how can you not include hockey in this list? We sure do love our St. Louis Blues, so cheer on our guys as they embark on the second half of the 2015-2016 season. Check out their schedule and purchase tickets.
And Frosty FTW!
If you're on a mission to build a flawless Frosty the Snowman this year, this article breaks down the science behind building the perfect snowman.