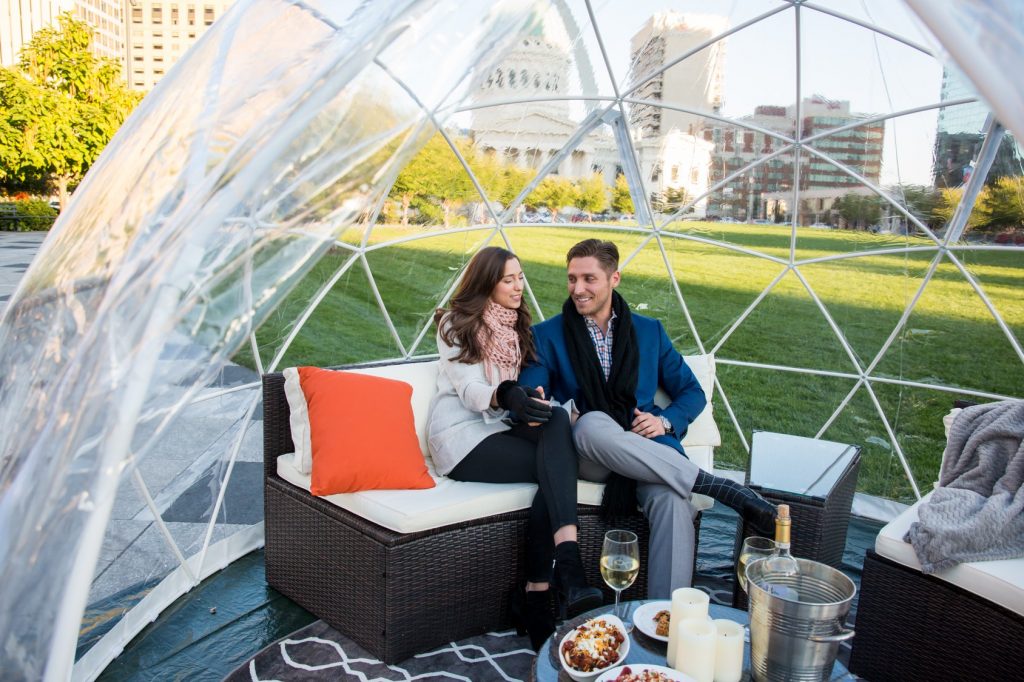 We are excited to welcome you to Winterfest's Igloo Village for your reserved date and time! When you arrive at Kiener Plaza, please check in at the Winterfest Skate Shack with your confirmation email to receive wristbands, a parking voucher, and information about your visit.
To make the most of your reservation and all that it includes, see below for helpful tips and information!
2-Hour Igloo Rental: Our igloos feature stylish, comfortable seating for up to 6 people, including cozy blankets in a heated personal space. Your 2-hour igloo rental begins at your selected reservation time, which can be found on your confirmation email or electronic ticket. Near the end of your rental, the igloo must be unoccupied and cleaned by our staff for the next guests, whose 2-hour rental begins immediately at the time yours ends.
Wrist Bands: Your igloo rental provides up to 6 wrist bands. Winterfest wrist bands are required to enter the igloo village and the ice rink for your reserved time. You'll receive wristbands upon arrival when you check in at the Winterfest Skate Shack at Kiener Plaza.
Arrive on Time: Our igloos are very popular and time cannot be extended beyond your reserved time slot. If you arrive early, please wait until your reservation time to enter the igloo so we can best prepare for your experience.
Parking: Please park at the Ballpark Village surface lot on the corner of 8th and Walnut Street. To access the surface lot, enter from 8th Street at the new PwC Pennant Building (Note: please do not park in the building garage). Bring your parking ticket when you check in at the Winterfest Skate Shack at Kiener Plaza, where a parking sticker will be apply to your Ball Park Village parking ticket. Parking is free for up to 3 hours. Note: Downtown St. Louis can be a busy place on the weekends – should the Ballpark Village lot ever be full, a parking attendant will direct you to park in the Stadium East Parking Garage (entrance on Broadway).
Food and Beverage: Your reservation includes a food & beverage credit of $50 to use toward table service provided by Sugarfire Winterfest Café. No outside food or drink is allowed within the igloo village. Must be 21 with valid ID to purchase alcoholic beverages. Any outstanding balance for food & drink purchased from Sugarfire must be paid at least 15 minutes prior to the end of your rental time.
Ice Skate Rentals: Up to 6 Winterfest Ice Skate rentals are included with your igloo rental. Please note, children skate free on Fridays and during NHL All-Star Week (January 22 – 26).
Questions? Should you have any additional questions before your reservation date/time, please call (877) 982-1410.