Skip to main content
The Tram Ride to the Top is SOLD OUT for advanced reservations through Saturday April 1, 2023. Same-day tickets may be available at 9a at the Gateway Arch ticket center, online, or via the Gateway Arch call center (877-982-1410).

Gateway Arch visitors must enter the monument through the entrance, which faces Fourth Street and the Old Courthouse. The Gateway Arch legs are exits only. Please allow at least 30 minutes to go through security.


Directions the Riverboats at the Gateway Arch
The Riverboats at the Gateway Arch are located on the riverfront's cobblestone levee at 50 S. Leonor K Sullivan Blvd., St. Louis, MO. To access the riverfront levee parking, take Chouteau Ave. to Leonor K Sullivan Blvd.
Note: Riverfront levee parking availability is subject to weather and river conditions.
DO NOT USE GPS NAVIGATION GPS use is NOT recommended due to recent street changes near the Gateway Arch Riverfront.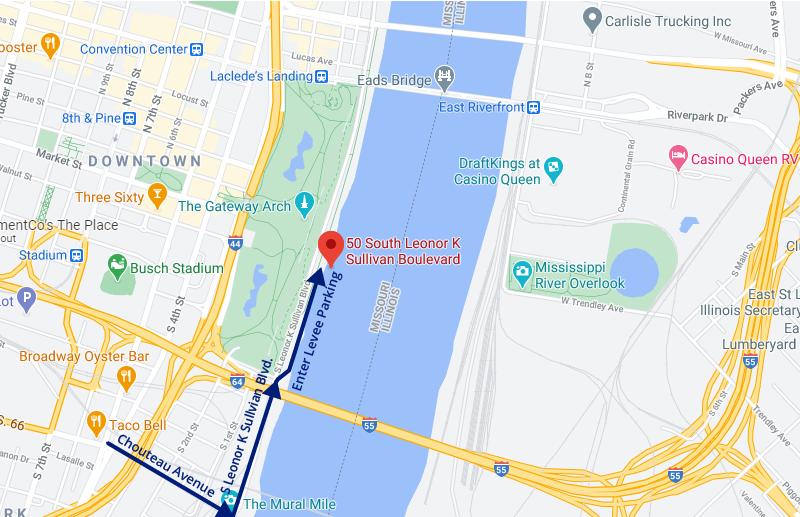 Turn-by-Turn Directions
From Illinois: I-55 South/I-64 West – Congressman William C Clay Bridge
Take exit 40B
Stay on far RIGHT to exit on Walnut St.
Turn LEFT onto Walnut St.
Turn LEFT onto S. Broadway St.
Turn LEFT on Chouteau Ave.
Continue EAST on Chouteau Ave. toward the riverfront mural wall
Turn LEFT on Leonor K. Sullivan Blvd at the T
Continue NORTH on Leonor K. Sullivan Blvd., past Poplar St. to enter Levee Parking on RIGHT
---
From Illinois: Eads Bridge Heading WEST
ALERT: Eads Bridge is closed nightly between 9 p.m. and 5 a.m.
Continue straight across Memorial Dr.
Turn LEFT on S. Broadway St.
Turn LEFT on Chouteau Ave.
Continue EAST on Chouteau Ave. toward the riverfront mural wall
Turn LEFT on Leonor K. Sullivan Blvd. at the T
Continue NORTH on Leonor K. Sullivan Blvd., past Poplar Street to enter Levee Parking on RIGHT
---
From Illinois: I-70 West – Stan Musial Veterans Memorial Bridge
Take the LEFT exit for N. Tucker Blvd. [will turn into Tucker Blvd.] and continue SOUTH
Turn LEFT on Chouteau Ave.
Continue EAST on Chouteau Ave. toward the riverfront mural wall
Turn LEFT on Leonor K. Sullivan Blvd. at the T
Continue NORTH on Leonor K. Sullivan Blvd., past Poplar Street to enter Levee Parking on RIGHT
---
From Missouri: I-55 North/I-44 East
Take exit 290C Park Ave
Turn RIGHT onto Park Ave.
Turn LEFT on N. Broadway St. and continue NORTH
Turn RIGHT on Chouteau Ave.
Continue EAST on Chouteau Ave. toward the riverfront mural wall
Turn LEFT on Leonor K. Sullivan Blvd. at the T
Continue NORTH on Leonor K. Sullivan Blvd., past Poplar Street to enter Levee Parking on RIGHT
---
From Missouri: I-64/40 East
Take Exit 40 – the "Last Missouri Exit"
Continue STRAIGHT off of the exit
Turn LEFT on Chouteau Ave.
Continue EAST on Chouteau Ave. toward the riverfront mural wall
Turn LEFT on Leonor K. Sullivan Blvd. at the T
Continue NORTH on Leonor K. Sullivan Blvd., past Poplar St. to enter Levee Parking on RIGHT
---
From Missouri: I-70 East
Route through Downtown
Take Exit 246A Broadway St.
Continue SOUTH on Broadway past the stadium
Turn LEFT on Chouteau Ave.
Continue EAST on Chouteau Ave. toward the riverfront mural wall
Turn LEFT on Leonor K. Sullivan Blvd at the T
Continue NORTH on Leonor K. Sullivan Blvd., past Poplar St. to enter Levee Parking on RIGHT
Direct Interstate Route
Continue onto I-44
Take Exit 290C – 7th St.
Turn RIGHT onto 7th St.
Turn RIGHT on Chouteau Ave.
Continue EAST on Chouteau Ave. toward the riverfront mural wall
Turn LEFT on Leonor K. Sullivan Blvd. at the T
Continue NORTH on Leonor K. Sullivan Blvd., past Poplar St. to enter Levee Parking on RIGHT