St. Louis / Uncategorized
The Spookiest Spots in St. Louis
31 October 2019
This time of year, St. Louis is rampant with commercial haunted houses full of teens in masks and gallons of fake blood. But if you're looking for a real fright this Halloween, pay a visit to one of these truly haunted places around the Lou.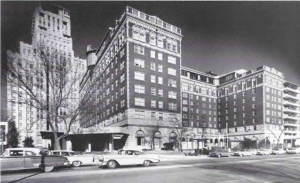 [Photo Credit: The Chase Park Plaza Royal Sonesta Hotel]
A man in a tuxedo is often seen wandering the halls of The Chase Park Plaza at night, particularly when there aren't many guests in the hotel. He is thought to be Chase Ulman, the hotel's builder. He was most often seen while the hotel was under construction, perhaps checking up on the hotel he built to ensure everything was up to par. Another famous ghost of The Chase is the red-haired lady in a white dress who wanders the third floor. Legend has it, she leapt out a window to her death on her wedding night in the 1930s. While neither of these ghosts are harmful, they do manage to startle those who see them.
[Photo Credit: Campbell House Museum]
The Campbell house was built in 1851, and in 1943, the house opened as a museum of history and decorative arts in mid-Victorian America. Many people have reported strange experiences, including a woman who very clearly felt a hand on her back to push her along. Then there's the mystery of the Kennedy half-dollars, kept in a bowl on the mantelpiece. Over the last four years, those half-dollars appear sporadically on the top step outside the building and no one seems to know why or how they get there.
Jefferson Barracks and Cemetery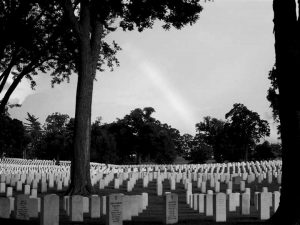 [Photo Credit: Haunted Rooms America]
Built in 1863, Jefferson Barracks became the site of a National Cemetery in 1866. Over the last century, soldiers have heard ghostly footsteps, watched a light turn itself on and off, and been confronted by the apparition of a guard with "a bullet hole in his head running red with blood."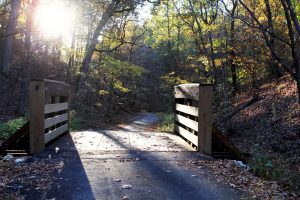 [Photo Credit: St. Louis Post-Dispatch]
Officially known as Lawler Ford Road, this haunted trail was originally constructed in the late 1860s to gain access to the Meramec River and the railroad tracks located alongside it. Legend has it that Della Hamilton McCullough, wife of a local judge, was hit by a train and died in 1876. The area has since been turned into a biking and jogging trail, riddled with eerie sounds, inexplicable noises and disembodied footsteps believed to belong to Mrs. McCullough.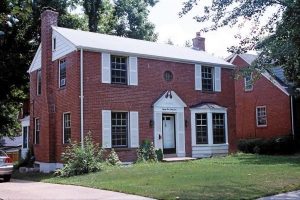 [Photo Credit: True Title]
Throughout March and April of 1949, priests worked to cast an evil spirit out of a 14-year-old boy. They eventually moved him to the Alexian Brothers Hospital where they completed the exorcism. Following, the boy returned home, and the room at the hospital was locked up after several reports of blasts of cold air and flickering lights. Although the hospital was torn down and replaced, the house still stands.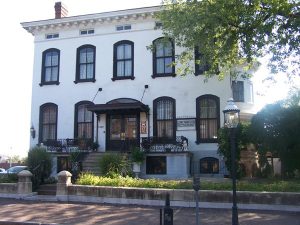 [Photo Credit: Lemp Mansion Restaurant & Inn]
Known as one of the most haunted places in the country, St. Louisans who love all things scary know The Lemp Mansion is the place to go around Halloween. This beer-brewing family has a dark history of mysterious deaths, many of which took place in what is now the Lemp Mansion Restaurant & Inn. Stay overnight in the bedrooms that were once occupied by the Lemp family themselves … if you dare.
Happy Halloween!